Above: Urban infill: The generous 645 square metre site is redeveloped to accommodate two 7.7 Star townhouses, each with space for parking, productive gardens and trees. Access to the smaller rear dwelling is to the side of Marie's home.
---
By subdividing a large site in Melbourne's middle suburbs to allow for two 7.7 Star townhouses, architect Marie Carrel has bought some financial security, and created additional housing close to employment and transport.
Give a designer a blank canvas and let's see what they do. Marie Carrel of Planet Architecture took her canvas, in Melbourne's leafy eastern middle suburbs, in a direction designed to secure her better work-life balance and financial freedom.
Instead of opting for a single dwelling on the generous 645 square metre site, Marie decided on dual occupancy with a largish 7.7 Star dwelling at the front (featured here) and a smaller townhouse slated for the block's rear. She wanted to maximise the site – "we need more urban density because most of us like to live closer to town" – and create a good financial foundation for the future, while producing quality, sustainable architecture. "Dabbling in property development is a very exciting project for me."
Marie has nimbly solved the particular solar and privacy challenges of this east-west property. The home literally opens to the sun. With lofty ceilings, the combined living, dining, and kitchen spills onto a generous north-facing deck. This is Marie's favourite part of the home and it's easy to see why. "The high ceiling (three metres) gives that extra height where it's needed, while the bedrooms upstairs with 2.4 metre high ceilings keep mossies within reach," she laughs. "This home is all about air and light."
Above: Double-glazed concertina doors open the living and dining rooms to a secluded outdoor entertainment area. The plant wall provides colour, and helps maintain healthy indoor air quality, and the recycled timber wall was reclaimed from the demolition of the old house.
---
Sun is shaded from the thermal mass of the tiled concrete slab during summer, yet reaches almost to the southern reaches of the room in winter. The house is also designed to maximise through breezes.
A south-facing casement window glanced through a peephole perforation in the staircase wall sends fresh air straight down into the lounge area. This window also ventilates the whole upper floor, Marie says.
As a building designer Marie likes to specify materials and products she's personally used – so that she can vouch for their performance – but this project has enabled her to expand her repertoire by trying out new products she has specified on other jobs but never lived with herself. Take the induction cooktop, or the oversized bi-folds and retractable fly-screen (4.6 metre span by 2.7 metre height), or her beloved hydronic heating. "This is the first time," she asserts, "since leaving France 27 years ago that I feel like I'm there. Because thermally it's been a shock to live in freezing houses here and in the States [where she lived before]. In the middle of winter it's just so cosy."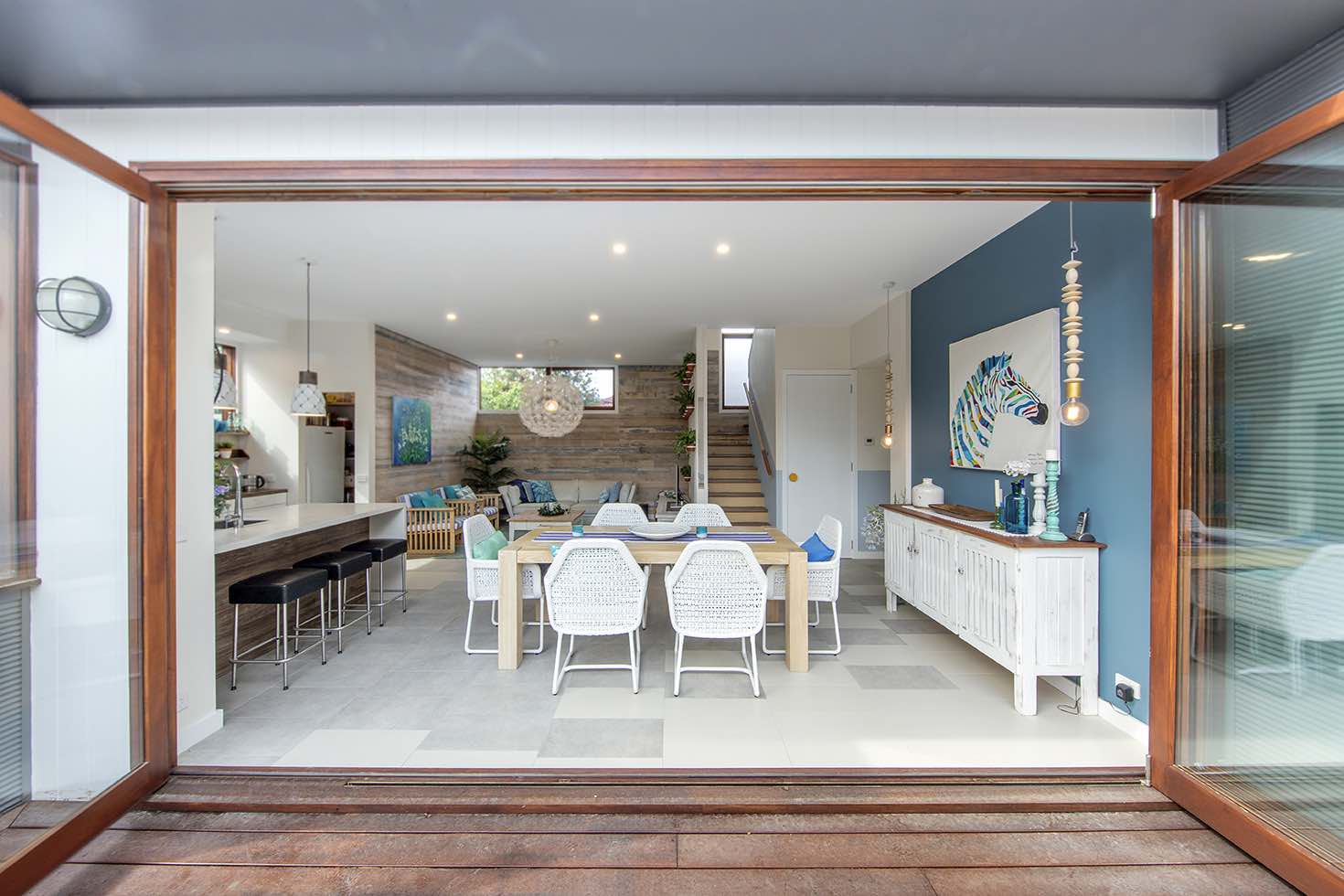 Above: The house is designed to maximise through breezes. A south-facing casement window sends fresh air into the lounge area.
---
Above: The light-filled kitchen makes the most of north sun, with smaller windows positioned to the east and west. The in-slab hydronic heating system in the living spaces is insulated to reduce losses and lag.
---
The key to the hydronic's success, says Marie, is its insulating layer. Traditional hydronic heating, she explains, heats the entire slab, the footings, and the surrounding ground if it's not insulated. But even if it is insulated, heating an entire slab takes time and energy. This system, she explains, is much more efficient because it includes Poly Underfoot insulation over the concrete slab. This layer keeps the heating coils separate from the slab below – to reduce heat loss – and embeds them into a thinner, 100mm 'screed' slab poured on top. The coils heat this slab and the room beyond, saving time and energy. "The screed being thinner is also more responsive to thermostatic changes so you won't be sweating in the middle of the day in spring and autumn," adds Marie.
"Depending on the day," she says, "the heater comes on about 6:30am and heats until about 10am, and then it goes off until the next morning. This system, combined with the passive performance of the thermal mass of the floor, insulation, and double glazing, keeps the house around 16 degrees at night during winter, and about 21 degrees during the day." It's so efficient, she adds, that there's no need for upstairs heating. "Three out of the four rooms upstairs are facing north and heat rises so they keep warmer in winter anyway."
Above: Heat rises! The rooms upstairs require no additional heating due to the combination of passive solar design and in-slab hydronic heating on the ground floor.
---
Above: Marie uses vivid colours in combination with concrete and timber to create a sense of space in smaller rooms. All bathroom fittings are 5 star WELS, and the toilets and laundry are supplied with rainwater.
---
Marie estimates this type of hydronic heating adds about $80 per square metre to the hydronic heating install, depending on what slab finish you opt for. But "you have to spend more money as an investment to make sure you spend less later in running costs," she says.
Alongside warmth, light is another trademark of this home. "I'd like everyone to have a house that's bright and light," says Marie. "Once you've lived in a bright and light house there's no return. There's an energy that is brought by the sun that nothing else can bring."
This article was originally written for for Sanctuary magazine by Verity Campbell. All photos are by Ben Wrigley. https://renew.org.au/sanctuary-magazine/house-profiles/a-modern-townhouse/