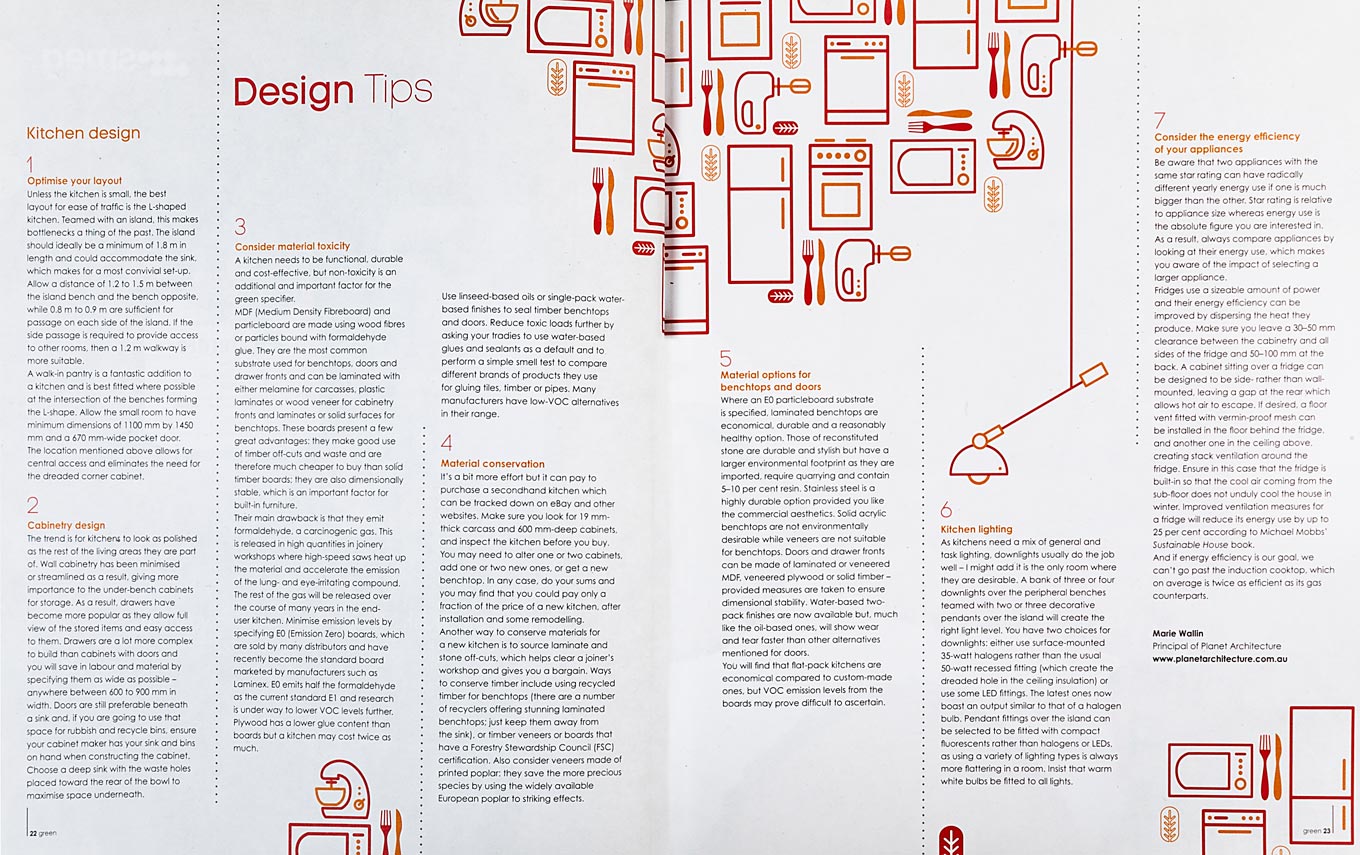 Optimize your kitchen layout
Unless the kitchen is small, the best layout for ease of traffic is the L-shaped kitchen. Teamed with an island, this makes bottlenecks a thing of the past. The island should ideally be a minimum of 1.8m in length and could accommodate the sink, which makes for a most convivial set-up. Allow a distance of 1.2 to 1.5 metres between the island bench and the bench opposite, while 0.8m to 0.9m are sufficient for passage on each side of the island. If the side passage is required to access other rooms, then a 1.2m walkway is more suitable. A walk-in pantry is a fantastic addition to a kitchen and is best fitted where possible at the intersection of the benches forming the L-shape. Allow the small room to have minimum dimensions of 1100mm by 1450mm and a 670mm wide pocket door. The location mentioned above allows for central access and eliminates the need for the dreaded corner cabinet.
Cabinetry design
The trend is for kitchens to look as polished as the rest of the living areas they are part of. Wall cabinetry has been minimized or streamlined as a result, giving more importance to the under bench cabinets for storage. As a result, drawers have become more popular as they allow full view of the stored items and easy access to them. Drawers are a lot more complex to build than cabinets with doors and you will save in labour and material by specifying them as wide as possible – anywhere between 600 to 900mm in width. Doors are still preferable beneath a sink and if you are going to use that space for rubbish and recycle bins, ensure your cabinet maker has your sink and bins on hand when constructing the cabinet. Choose a deep sink with the waste holes placed toward the rear of the bowl to maximize space underneath.
Consider material toxicity
A kitchen needs to be functional, durability and cost-effective, but non-toxicity is an additional and important factor for the green specifier.
MDF (Medium Density Fibreboard) and particleboard are made using wood fibres or particles bound with formaldehyde glue. They are the most common substrate used for benchtops, doors and drawer fronts and can be laminated with either melamine for carcasses, plastic laminates or wood veneer for cabinetry fronts and laminates or solid surfaces for benchtops. These boards present a few great advantages: they make good use of timber off-cuts and waste and are therefore much cheaper to buy than solid timber boards, they are also dimensionally stable which is an important factor for built-in furniture. Their main drawback is that they emit formaldehyde, a carcinogenic gas. This is released in high quantities in joinery workshops where high-speed saws heat up the material and accelerate the emission of the lung and eye-irritating compound. The rest of the gas will be released over the course of many years in the end-user kitchen. Minimize emission levels by specifying E0 (Emission Zero) boards which are sold by many distributors and have recently become the standard board marketed by manufacturers such as Laminex. E0 emits half the formaldehyde as the current standard E1 and research is underway to lower VOC levels further. Plywood has a lower glue content than boards but a kitchen may cost twice.
Use linseed-based oils or single-pack water-based finishes to seal timber benchtops and doors. Reduce toxic loads further by asking your tradies to use water-based glues and sealants as a default and to perform a simple smell test to compare different brands of products they use for gluing tiles, timber or pipes. Many manufacturers have low-VOC alternatives in their range.
Material conservation
It's a bit more effort but it can pay to purchase a second-hand kitchen which can be tracked down on eBay and other websites. Make sure you look for 19mm thick carcass and 600mm deep cabinets, and inspect the kitchen before you buy. You may need to alter one or two cabinets, add one or two new ones, or get a new benchtop. In any case, do your sums and you may find that you could pay only a fraction of the price of a new kitchen, after installation and some remodelling. Another way to conserve materials for a new kitchen is to source laminate and stone off-cuts which helps clear a joiner's workshop and gives you a bargain. Ways to conserve timber include using recycled timber for benchtops (there are a number of recyclers offering stunning laminated benchtops, just keep them away from the sink), or timber veneers or boards that have a Forestry Stewardship Council (FSC) certification. Also consider veneers made of printed poplar, they save the more precious species by using the widely available European poplar to striking effects.
Material options for benchtops and doors
Where an E0 particleboard substrate is specified, laminated benchtops are economical, durable and a reasonably healthy option. Reconstituted stone is durable and stylish but has a larger environmental footprint as they are imported, require quarrying and contain 5-10% resin. Stainless steel is a highly durable option provided you like the commercial aesthetics. Solid acrylic benchtops are not environmentally desirable while veneers are not suitable for benchtops. Doors and drawer fronts can be made of laminated or veneered MDF, veneered plywood or solid timber –provided measures are taken to ensure dimensional stability. Water-based two-pack finishes are now available but much like the oil-based ones, will show wear and tear faster than other alternatives mentioned for doors.
You will find that flat-pack kitchens are economical compared to custom-made ones, but VOC emission levels from the boards may prove difficult to ascertain.
Kitchen lighting
As kitchens need a mix of general and task lighting, downlights usually do the job well – I might add it is the only room where they are desirable. A bank of three or four downlights over the peripheral benches teamed with two or three decorative pendants over the island will create the right light level. You have two choices for downlights: either use surface-mounted 35 Watt halogens rather than the usual 50 Watt recessed fitting (which create the dreaded hole in the ceiling insulation) or use some LED fittings. The latest ones now boast an output similar to that of a halogen bulb. Pendant fittings over the island can be selected to be fitted with compact fluorescents rather than halogens or LEDs, as using a variety of lighting types is always more flattering in a room. Insist for warm white bulbs to be fitted to all lights.
Consider the energy efficiency of your appliances
Be aware that two appliances with the same star rating can have radically different yearly energy use if one is much bigger than the other. Star rating is relative to appliance size whereas energy use is the absolute figure you are interested in. As a result, always compare appliances by looking at their energy use which makes you aware of the impact of selecting a larger appliance.
Fridges use a sizeable amount of power and their energy efficiency can be improved by dispersing the heat they produce. Make sure you leave a 30-50mm clearance between the cabinetry and all sides of the fridge and 50-100mm at the back. A cabinet sitting over a fridge can be designed to be side rather than wall-mounted, leaving a gap at the rear which allows hot air to escape. If desired, a floor vent fitted with vermin-proof mesh can be installed in the floor behind the fridge, and another one in the ceiling above, creating stack ventilation around the fridge. Ensure in this case that the fridge is built-in so that the cool air coming from the sub-floor does not unduly cool the house in winter. Improved ventilation measures for a fridge will reduce its energy use by up to 25% according to Michael Mobbs' Sustainable House book.
And if energy efficiency is our goal, we can't go past the induction cooktop, which on average is twice as efficient as its gas counterparts.